Beau Jo's is a beloved pizzeria in the heart of Steamboat Springs, Colorado. Known for its signature "Colorado Style" pizza and cozy mountain atmosphere Beau Jo's in Steamboat Springs has been a favorite among locals and visitors alike for over 40 years.
Menu of Beau Jo's
One of the things that sets Beau Jo's apart from other pizzerias is its "Colorado Style" pizza. This iconic dish features a thick fluffy crust that's rolled high on the edges creating a deep dish that's perfect for holding generous toppings. The crust is made using a blend of whole wheat flour white flour honey and yeast which gives it a slightly sweet nutty flavour.
In addition to its signature pizza Beau Jo's offers a wide variety of other dishes including salads, sandwiches calzones and more.
Atmosphere of Beau Jo's
One of the things that makes Beau Jo's so special is its cozy mountain atmosphere. The restaurant is filled with rustic decor including wooden tables and chairs vintage skis and snowshoes and a fireplace that's perfect for warming up on chilly winter days. The walls are adorned with photos of local landmarks and outdoor activities showcasing the beauty of the Steamboat Springs area.
The restaurant is often busy especially during peak season but the friendly staff and lively atmosphere make it a fun and welcoming place to dine.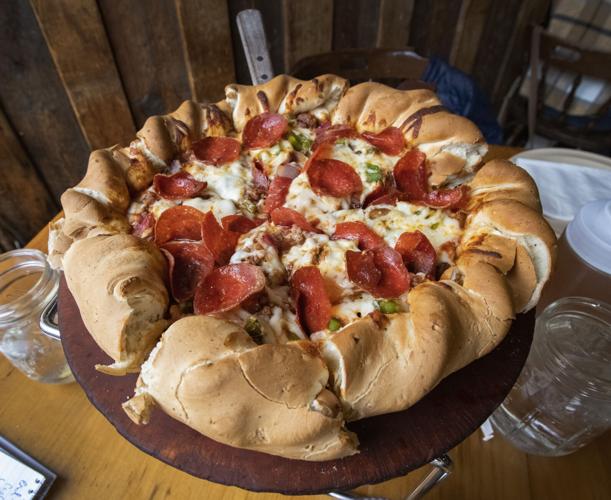 Tips for Visiting Beau Jo's
If you're planning a visit to Beau Jo's here are a few tips to keep in mind:
Come hungry: The portions at Beau Jo's are generous so make sure you come with a hearty appetite. You'll want to save room for dessert too – the restaurant offers a variety of sweet treats including a giant chocolate chip cookie that's perfect for sharing.
Be prepared to wait: Beau Jo's is a popular spot especially during peak season so be prepared to wait for a table. The good news is that the wait is usually worth it – once you're seated you'll be treated to delicious food and a fun atmosphere.
Try something new: While the Mountain Pie is a must-try don't be afraid to branch out and try something new from the menu. You might discover a new favourite dish that you'll want to come back for again and again.
In conclusion Beau Jo's is a must-visit destination for anyone traveling to Steamboat Springs. With its delicious "Colorado Style" pizza cozy mountain atmosphere and friendly staff it's no wonder that this restaurant has been a local favourite for over 40 years. So the next time you're in town be sure to stop by Beau Jo's for a meal that's sure to satisfy.